SEBA Assam will declare the Assam SEBA Result 2023 soon, Students who eagerly waiting for the HSLC Class 10th Result with Marksheet will be able to check their results here.
| | |
| --- | --- |
| Event | Assam SEBA Result 2023 |
| Board | SEBA |
| Class | 10th Class/ Metric |
| Exam Name | Metric Exam/HSLC Exam |
| Exam Type | Written Exam |
| Exam Date | 3 March – 01 April 2023 |
| Result Release Date | 22 May 2023 |
| Result Status | Released |
SEBA Exam Result 2023
Through this article, we are providing information about the SEBA results of 2023 for the metric exam in Assam. SEBA HSLC Exam Routine will be released and the exam will be started soon. Each and every year students eagerly await the result recently after the completion of the SEBA HSLC Board Exam. Assam HSLC Examination Result will be declared approximately in May 2022. So, all the students appearing this year will be able to know various methods of checking their results.
Related: HS 1st Year Admission Portal 2023 – AHSEC Form Fill up
SEBA Result 2023 Details
Name of the Exam: HSLC Class 10th Exam
Name of Class: 10th Standard
Name of Board: Secondary Education Board of Assam(HSLC).
Date of Exam: 3 March to 30 March 2023
No of Candidates: 4,22,174 Students
No of Exam Centres: 912 Centres
SEBA Result Date: 22 May 2023
Result Status: The result date is not announced yet by SEBA
SEBA Office Address: Railway Colony Rd, Railway Colony, Bamunimaidan, Guwahati, Assam 781021
Official Website: sebaonline.org
SEBA Result 2023 Date
We can say that the SEBA Results will be released in May. By analyzing the previous records it can be assumed that Assam HSLC Exam Result Date will expectedly be declared in May. All the appearing students and visitors are advised to stay updated with our website to get further information regarding HSLC results. Students check the SEBA Result Date in the Important Dates section on this page.
How to Check Assam Class 10 Exam Result?
The Candidates who appeared HSLC/AHM Exam may get their results on the date mentioned in the Important Dates section. The students who want to check SEBA Result 2023 will be able to do so from this website. The steps to check and download the Assam HSLC Examination Result are mentioned below.
Scroll Down to the Server List below
Click on any Server from the List given below
Enter your Roll Code or Roll Number
Then click the Get Result button.
The result will be displayed on your screen
Not Necessary to take a printout (Original Markshee will be given in your School)
SEBA Result Links
Important Link of SEBA Result
Check SEBA Result Through SMS
Students of the Matriculation Examination of SEBA board Can check results offline through SMS, Officially SMS service numbers will be published just a few days after the declaration date of the result, students need to send their Roll Nos with a particular method Along with the keyword which will be given below. So a student who wants to check their result offline by sending an SMS are requested to check this section periodically
Example:- If The Keyword Is SEBA18
The Method will be- SEBA10+Space+Your Roll No
SEBA Result SMS Networks
SMS Keywords
And Methods
BSNL Users
: Type SEBA22(space)(roll number) and send it to 57766
Jio & VI Users
Coming Soon
Airtel Users
Coming Soon
SEBA Result Date Timeline
We have collected information from various sources on the Previous Year's SEBA Result Declaration Time & Date. By looking into this timeline students will get an estimated idea of the SEBA Result Declaration Date of this year. Check out the details below.
| Date | Exam Year | Time |
| --- | --- | --- |
| 22 May | 2023 | 10:00 AM |
| 07 June | 2022 | 10:00 AM |
| 30 July | 2021 | 11:00 AM |
| 06 June | 2020 | 09:00 AM |
| 15 May | 2019 | 09:00 AM |
| 25 May | 2018 | 09:00 AM |
| 31 May | 2017 | 10:00 AM |
| 31 May | 2016 | 11:00 AM |
SEBA Assam Marksheet
The students of Class 10 will get their Marksheet offline from their own School within 15 days. The mark sheet given is not original or should not be treated as accurate. The digital mark sheet is only for temporary informational purposes. Students can download the SEBA Online Mark from the SebaOnline.org website. We have given a prototype of the offline marksheet below.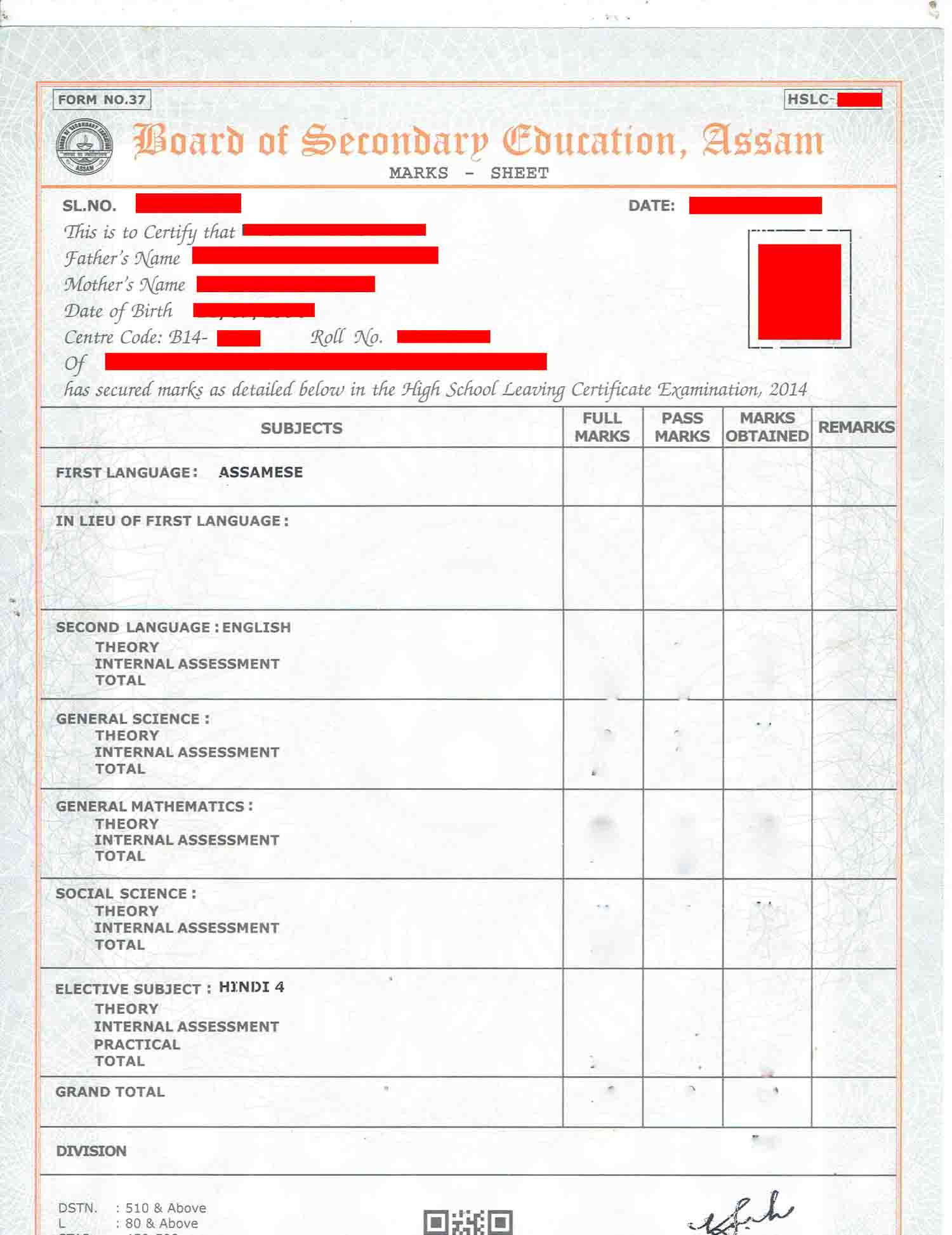 SEBA Rank Holder 2023
SEBA publishes a list of the rank holders of SEBA Results. Students who get the top 10 positions will be able to check their names in the Rank holder list here. We will provide the list of rank holders once it is officially declared by SEBA.
Assam SEBA Compartmental Result 2023
For the students who are failing to succeed in the main examination, the Secondary Education Board of Assam(SEBA) conducts a compartmental examination. After the declaration of the SEBA HSLC main examination result, the candidates who are not able to qualify for the examination will be able to apply for the compartment examination. The students will have to fill in the application form by clicking on the link which will be provided on this page, in order to appear in the compartmental examination. However, the Secondary Education Board of Assam will also release the application forms on the official website. After the exam students will get their compartmental Results.
HSLC SEBA Compartmental Result Details
Name of Examination: SEBA Compartmental Exam, 2023
Examination Class: 10th standard
Name of Board: Secondary Education Board of Assam
Eligibility: The failed students who will appear in SEBA Examination (HSLC). Students who failed in a maximum of 3 subjects and a minimum of 170 marks in aggregate will be eligible for this examination.
Starting Date of Online Application: May 2023
Ending Date of Online Application: May 2023
Starting Date of Exam: June 2023
Ending Date of Exam: June 2023
The secondary Education Board of Assam compartmental examination is probably going to be held in June. So all the students who failed the main exam are advised to visit our website regularly to know further information regarding this compartmental examination process.
FAQs of HSLC SEBA Result 2023
How can I check my HSLC SEBA Result 2023?
Student can check their HSLC SEBA Results from this website by visiting this page or the official website sebaonline.org
How can I get the HSLC 2023 result?
Students can get HSLC results from sebaonline.org, students can also download the SEBA Marksheet by clicking on the download marksheet button
Is SEBA Class 10 result Declared?
No, SEBA Class 10 result is not declared yet. You can join our Telegram group or Whatsapp group to get notifications once the results are published.