To improve RTO office service delivery, Assam Govt is now offering the applying for driving licence in a Faceless mode. The citizens would be able to apply for these services online and without needing to visit RTO offices multiple times. Only for picking up modified or renewed Driving licence, citizen would need to go to RTO office after getting an intimation that their "Driving Licence has been activated and is ready for pick up".
These services are available in Contactless mode only if your Aadhaar Card details such as Name, Date of Birth and Father's name/spouse name exactly matches the existing Driving Licence record in RTO database. In case these details do not match, you can either visit the RTO office to get the services or update your Aadhaar details or apply for online contactless services after updating the Aadhaar.
Please have your Aadhaar number, Mobile phone (the one which is entered in Aadhaar card) and a debit/credit card or net banking details ready.
Know how you can apply online for driving license or learner license at home, No Need To go To Any RTO, You can get your Driving Licence Just giving an online exam at home, All you need to do is eKYC trough aadhaar Card. So aadhaar card is must if you don't want to visit RTO office. Here You'll learn how to apply for online driving license exam and what are the other documents that are required during online apply.
Steps to apply in order to Issuing Learner's License in the following order
1. FILL APPLICATION DETAILS LL
2. UPLOAD PHOTO AND SIGNATURE (In case of eKYC through Aadhaar, only Signature need to be uploaded)
3. UPLOAD DOCUMENTS
4. FEE PAYMENT
5. VERIFY THE PAY STATUS
6. PRINT THE RECEIPT
7. LL SLOT BOOK

What are the documents required to upload online for driving licence online apply?
Adhar Card (Adhar card is must for online exam)
Address Proof ( Voter id/Passport/ affidavit)
How To Apply For Driving License Online In Assam Without Visiting RTO?
1. Click on Apply Link and You'll Be redirected to official Website
https://sarathi.parivahan.gov.in/sarathiservice/
2. Select Your State, You must be from Assam in order to give online exam

3. Then A pop-up will appear showing all the contactless services available at the moment, As of now only ISSUE OF LEARNERS LICENCE available.
Click on ISSUE OF LEARNERS LICENCE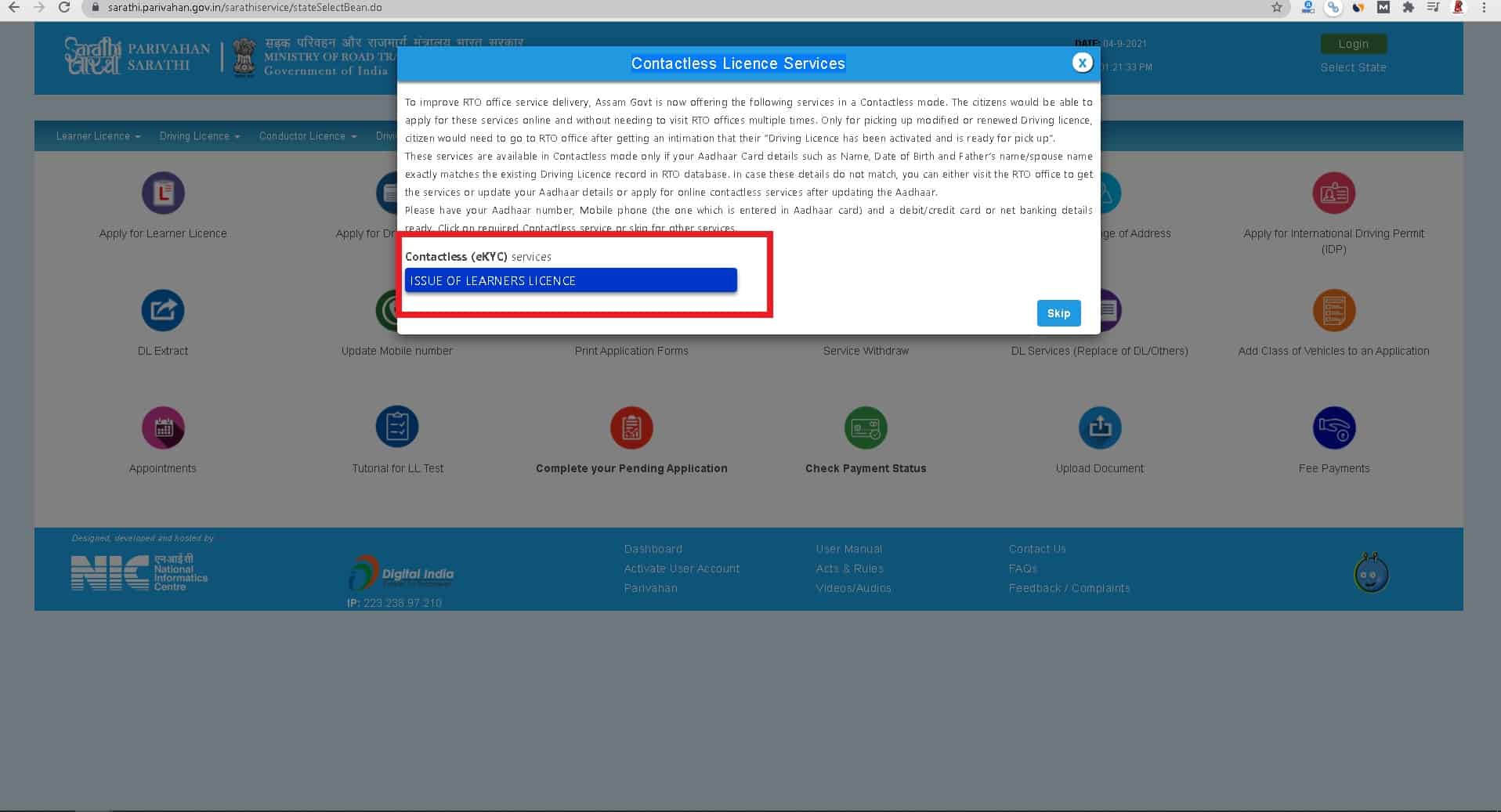 4. Now Click on Submit via Aadhaar Authentication in order to apply in contactless mode or you can submit without Aadhaar Authentication for offline mode.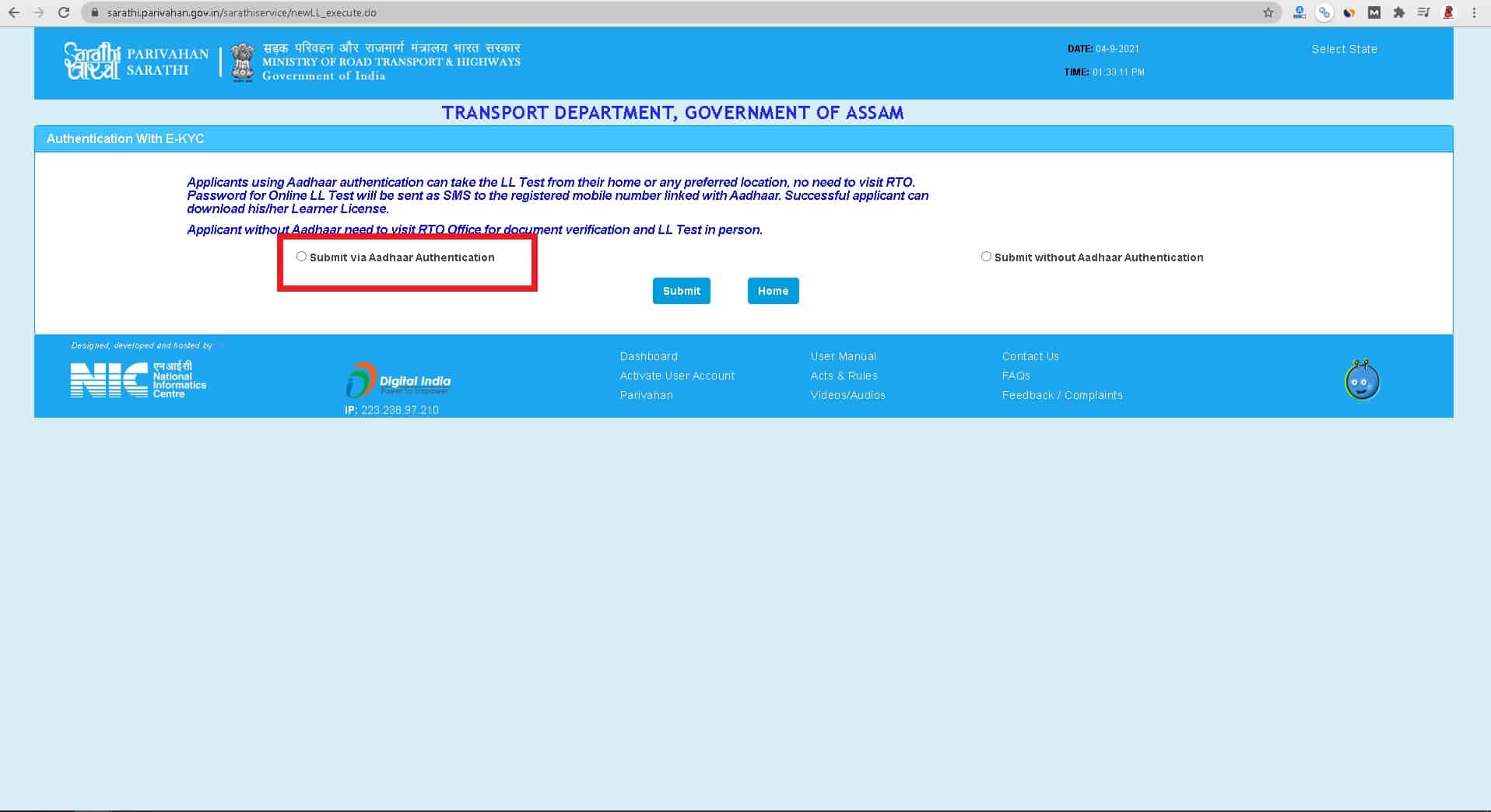 5. You Need enter Adhaar Card Number and An OTP will be sent to your adhaar registered mobile number, You need enter the OTP and Submit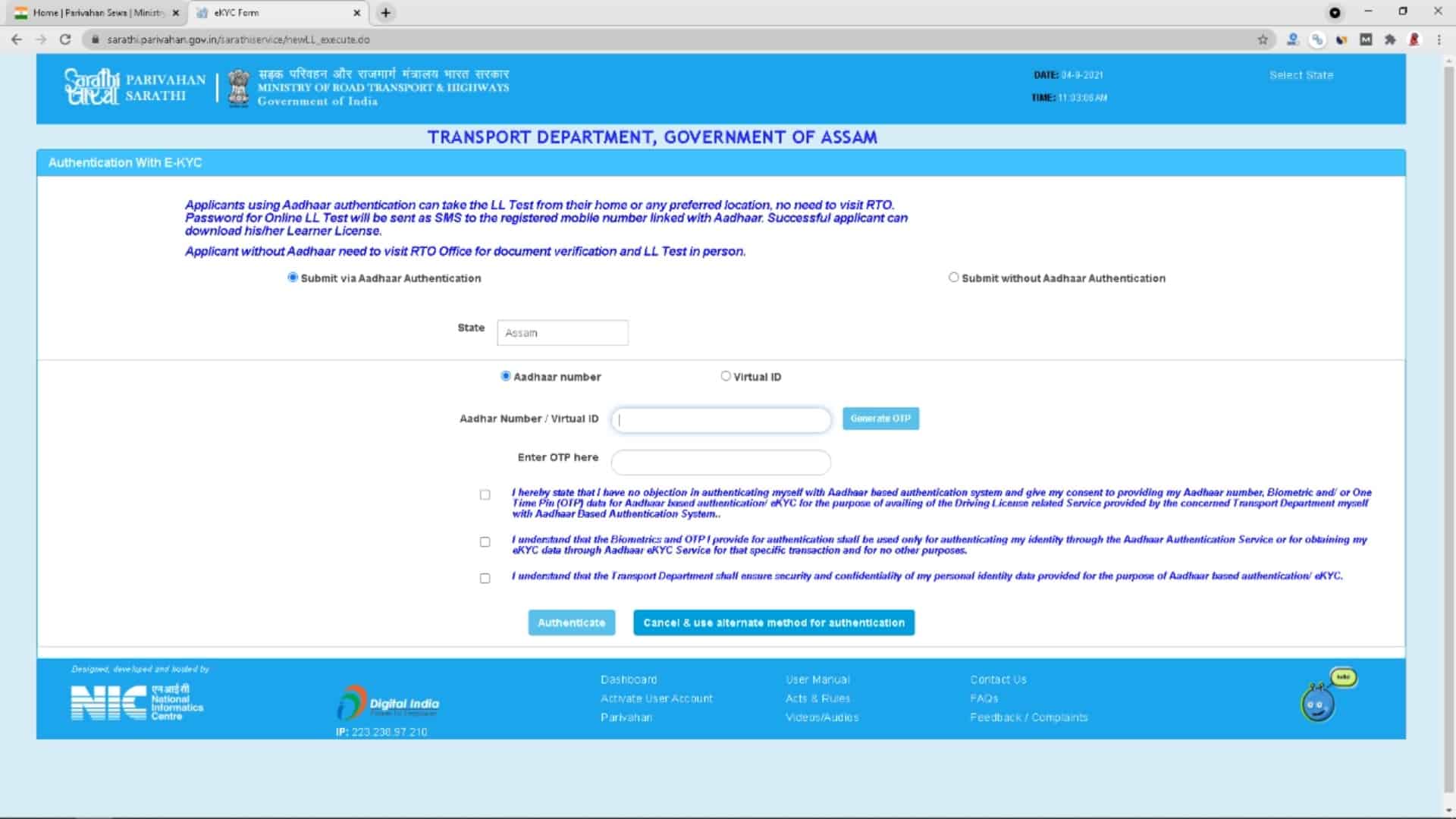 6. You'll get a half pre-filled form, you need to enter the remaining details and Submit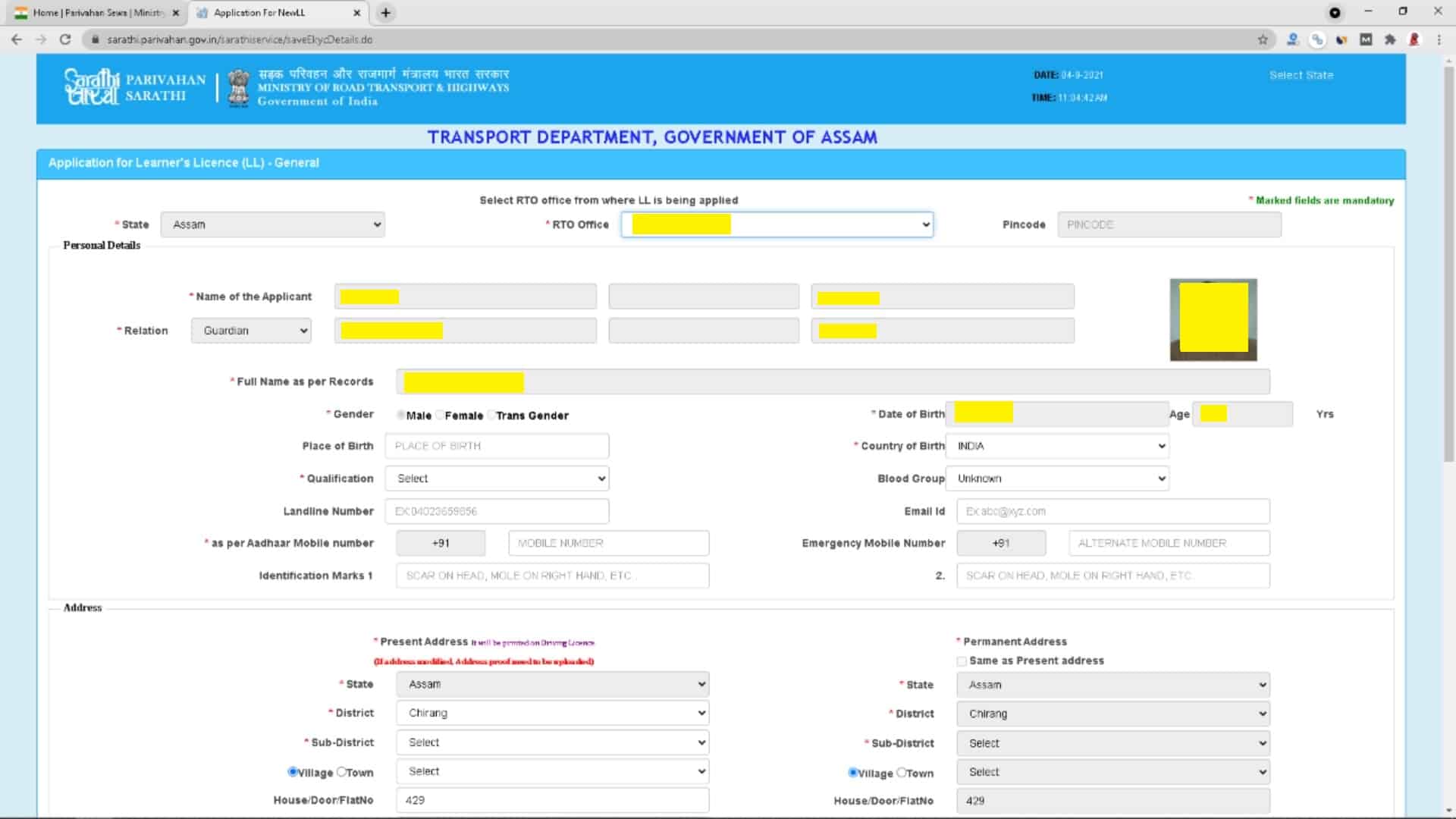 7. Now You'll be asked to upload your signature and address proof (which should exceed maximum size of 20kb and 500kb)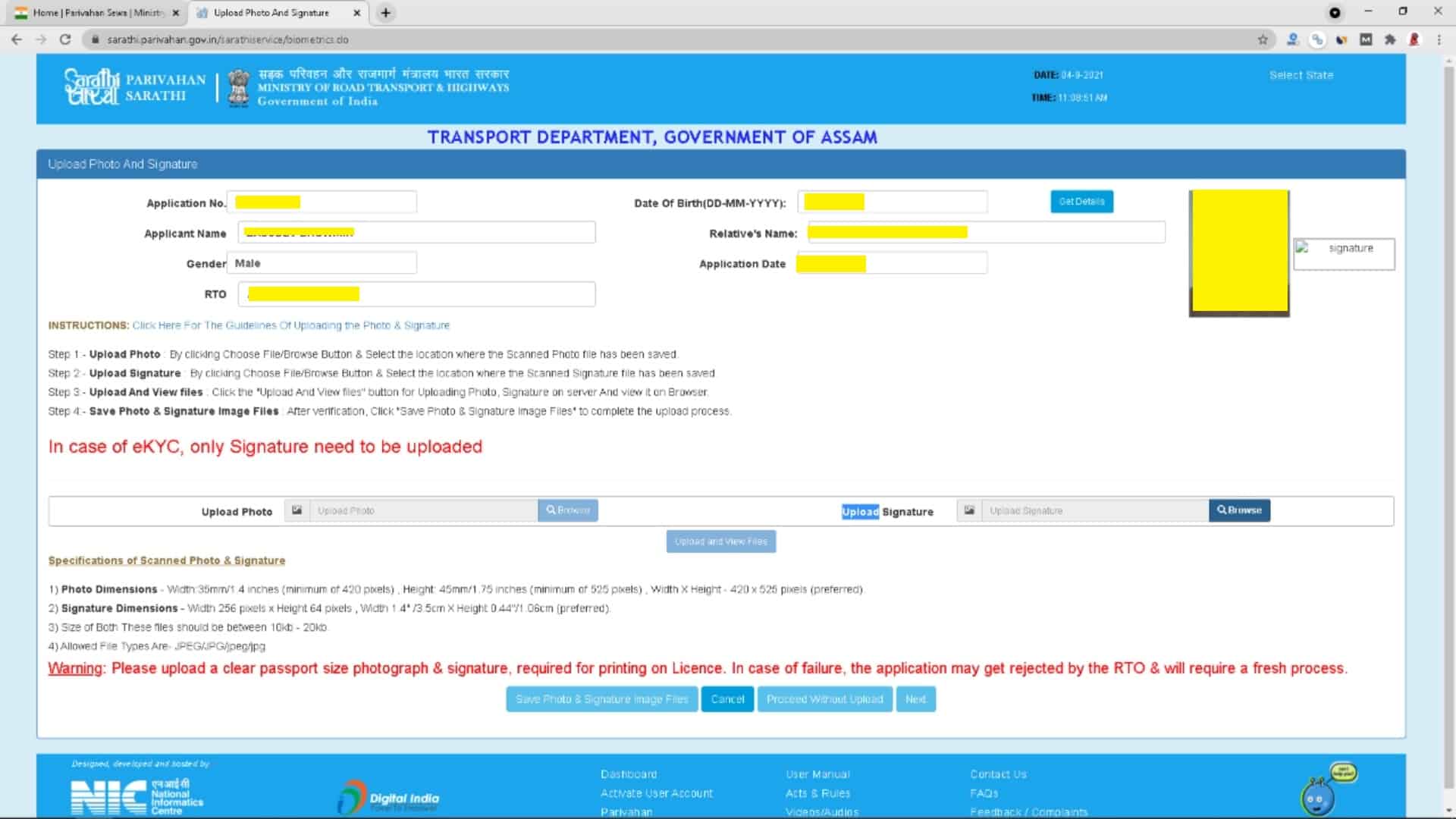 Your photo will be taken automatically from aadhaar card database so you no need to upload your photo
8. And finally you need to pay the fee in order to give the online exam.

Important Links