Students of Gauhati University will be able to download GU Admit Card 2023-2024 of UG/PG for all semesters of arts, science & commerce courses.
| | |
| --- | --- |
| Event | GU Admit Card |
| University | Gauhati University |
| Course | BA, BSc & BCom |
| Streams | Arts, Science, Commerce |
| Semesters | 2nd, 4th, 6th Semester |
| Course | UG |
| Exam Type | Written Exam |
| Session | 2022-2023 |
| Admit Release Date | 25 April 2023 |
| Admit Card Status | Issued |
GU Admit Card 2023
Candidates of Gauhati University and candidates of its affiliated colleges need to download their admit cards via online mode. As of last few years, Gauhati University has started the online process to get admit cards for its students, thereby we advise the students to visit the official website and this website for more details. After downloading the admit card the students need to get a signature from the principal and verify by their respective colleges. Without admit card, the students will not be allowed to sit for their semester examinations. Candidates of TDC(BA/B.Sc/B.Com) and PG(MA/M.Sc/M.Com) will have to carry their valid admit cards to the examination hall.
Related: Gauhati University CBCS Syllabus 2023
Gauhati University UG Admit Card Details
Course: Under Graduate level.
Courses Covered: UG (BA, B.Sc, B.com)
Semester Covered: 1st sem, 2nd sem, 3rd sem, 4th sem, 5th sem, 6th sem.
Name of the University: Gauhati University.
Official Website: www.gauhati.ac.in/guportal.in.
How to Download GU Admit Card?
Scroll Down to the Important Link Section below
Click on the Gu Admit Card link Portal.
Now enter your Roll No or Registration No as selected
Then Press DOWNLOAD ADMIT CARD ( PDF of your Admit Card will start downloading)
N.B: An Admit Card without the signature of the Principal will be invalid.
Important Information regarding GU Admit Card
If the candidates do not carry their admit card during the examination, they won't be allowed to sit in the examination. So, all the students must download and get signatures from the principal to sit for their semester examinations. Every semester the students have to fill out the exam form and also need to pay its required fees, then only they will be able to get their admit card.
Important Links of Gauhati University Admit Card
Your Admit Card not generated yet! error ? GUPortal
If any student facing this error, we strongly recommend you to go through the GU Live Admit Card List and recheck if your admit card is live. If its live and still you're facing this problem, Make sure you didn't occur the mistake mentioned below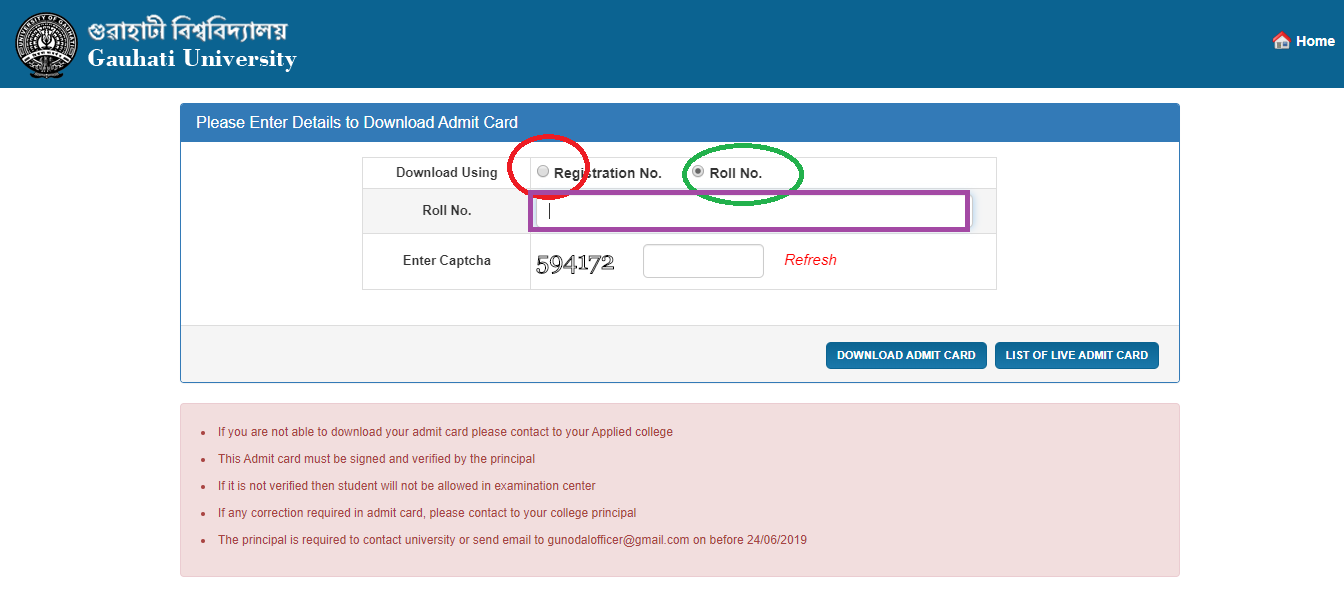 if you selected Roll No, Put your Roll No
And if you selected Registration, Put Your Registration No
Rules That Candidates must follow
These Examinees will be permitted to occupy their allotted seats 15 minutes before the scheduled commencement of the examination.
An Admit Card without the signature of the Principal will be invalid. The examinees must carry the Admit Card in original to the examination hall on each day of examinations.
Examinees must not write their name, College name, phone no. or put any identifying mark anywhere in the Answer Script.
Examinees will not be allowed to leave the Examination hall until an hour has elapsed from the time when the question papers were distributed. No candidate will be allowed to re-enter the examination hall after he left handing over the Answer script.
Examinees are forbidden to carry into the Examination Hall or have in their possession while under examination, any book, notepaper, mobile phone, electronic gadget, writing scribbling or other materials except their Admit Cards; University Registration Receipts and any other writing requisites or drawing implements. Anything other article found even in the possession of a candidate will be seized by the Officer-In-Chargee and the candidate shall be liable to expulsion.
The Officer-in-Charges are fully empowered to take appropriate decisions in case of any breach of the rules or in cases of adoption of any unfair means by the examinees. The Executive Council of Gauhati University may impose further penalties in such cases.
Examinees are required to observe strictly the rules laid down by the University for Conduct of examinations and the guidance of candidates.
At the end of the examination, a candidate has to hand over the Answer Script to the invigilator. In no case, the examinee shall leave the Answer script in the desk.
GU Portal Admit Card Of Following Covered Courses
Arts Courses
B.A. (Anthropology), B.A. (Bodo), B.A. (Geography), B.Ed., M.A. (Anthropology), M.A. (Arabic),M.A. (Assamese), M.A. (Bengali), M.A. (Bodo), M.A. (Comparative Indian Literature), M.A. (Economics), M.A. (Education), M.A. (English Language and Literature), M.A. (English Language Teaching), M.A. (English), M.A. (Geography), M.A. (Hindi), M.A. (History), M.A. (Linguistics), M.A. (Mathematics), M.A. (Persian), M.A. (Philosophy), M.A. (Political Science), M.A. (Psychology), M.A. (Sanskrit), M.A. (Sociology), M.A. (Women's Studies), M.B.E. (Master of Business Economics), M.Ed, M.Lib.Sc, M.Phil. (Assamese), M.Phil. (Bengali), M.Phil. (Comparative Indian Literature), M.Phil. (Education), M.Phil. (English), M.Phil. (Geography), M.Phil. (Hindi), M.Phil. (History), M.Phil. (Library & Information Science), M.Phil. (Persian), M.Phil. (Sanskrit), M.Phil. (Statistics), M.Phil. (Women's Studies), PhD (Arabic), PhD (Assamese), PhD (Bengali), PhD (Bodo), PhD (Economics), PhD (Education), PhD (English Literature), PhD (English), PhD (French), PhD (Geography), PhD (Hindi), PhD (History), PhD (Library & Information Science), PhD (Linguistics), PhD (Persian), PhD (Philosophy), PhD (Political Science), PhD (Psychology), PhD (Sanskrit), PhD (Sociology), PhD (Women's Studies), Post Graduate, Diploma in Oriya, Diploma in Russian, Diploma in Persian, Post Graduate Diploma in Assamese, Post Graduate Diploma in Disabilities Studies – PGDDS, Post Graduate Diploma in French, Post Graduate Diploma in Spoken Persian, Certificate Course in French, Certificate Course in Modern Persian, Certificate Course in Persian, Certificate Course in Russian, Certificate Course in Women's Studies, Post Graduate Certificate Course in Disabilities Studies – PGCCDS
Engineering Courses
B.Tech. (Biotechnology), B.Tech. (Computer Science and Engineering), M.Sc. (Instrumentation Technology), M.Tech. (Biotechnology), M.Tech. (Electronics and Communication Engineering), M.Tech. (Information Technology), PhD (Electronics and Communications Engineering), PhD (Electronics and Telecommunication), PhD (Environmental Engineering), PhD (Instrumentation Technology)
Science Courses
B.S. (Chemical Science), B.S. (Physical Science), B.Sc. (Zoology), M.Phil. (Anthropology), M.Phil. (Botany), M.Phil. (Electronics), M.Phil. (Physics), M.S. (Chemical Science), M.S. (Mathematical Science), M.S. (Physical Science), M.Sc. (Animal Ecology and Wildlife Biology), M.Sc. (Anthropology), M.Sc. (Biotechnology), M.Sc. (Botany), M.Sc. (Chemistry), M.Sc. (Computer Science), M.Sc. (Economics), M.Sc. (Electronics & Communication), M.Sc, (Electronics and Telecommunication), M.Sc. (Environmental Management), M.Sc. (Environmental Science), M.Sc. (Geography), M.Sc. (Geology), M.Sc. (Mathematics), M.Sc. (Microbiology), M.Sc. (Physics), M.Sc. (Statistics), M.Sc. (Zoology), M.Sc. + PhD (Food Science), M.Sc. (Geological Sciences), M.Sc. in Instrumentation and Applied Physics, PhD (Anthropology), PhD (Biotechnology)
PhD (Botany), PhD (Chemical Sciences), PhD (Chemistry), PhD (Computer Science), PhD (Environmental Science), PhD (Geological Sciences), PhD (Geology), PhD (Mathematics), PhD (Physical Science), PhD (Physics), PhD (Zoology), PG Diploma in Analytical Chemistry
Management Courses
M.B.A., M.B.A. (Executive), PhD (Business Administration), PhD (Human Resource), PhD (Management Studies), PhD (Marketing), Diploma in Human Resource Management (D.H.R.M.), Diploma in Marketing Management
Mass Communications Courses
M.A. (Mass Communication), PhD (Journalism and Mass Communication)
Commerce Courses
B.Com, M.Com, M.Com. (Integrated), PhD (Commerce), PhD (Finance), PhD (Statistics)
Information Technology Courses
B.C.A, B.Tech. (Information Technology), M.Sc. (Information Technology), PhD (Information Technology), Post Graduate Diploma in Computer Applications – PGDCA
Law Courses
B.A. + L.L.B. (Hons), L.L.B., L.L.B. (Hons.), L.L.M, PhD