This is for information to all final year students of GU that the 6th sem Examinations will be held both in the online and offline mode. So students who are thinking about online exam but do not know the procedures can get their queries solved here, In this article, we'll be telling you every single thing about the whole procedure of online exam,
Starting from how to select modes of exam, and how to upload your answer sheet in PDF Format.
Exam Starts From- Routine Will be Republished
Duration of Additional Time for Scanning Uploading PDF- Not Announced Or Will be mention in the question paper
Duration of Additional Time for Submitting in College: Not Announced Or Will be mention in the question paper
Exam Type- Online/Offline
Semester- TDC Final Year
Additional Time For College Submission- Not Announced Or Will be mention in the question paper
How to select exam Mode? (Online/Offline)
Go to Student Portal [Click Here]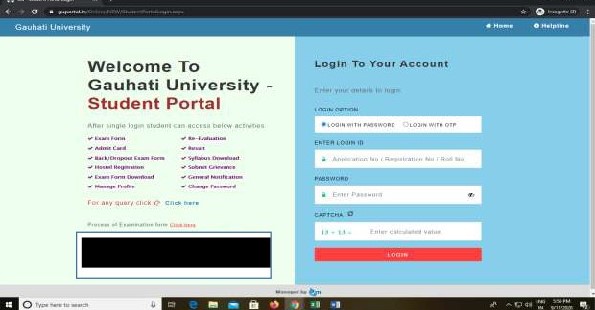 Enter Your Login credentials (Roll No/Reg No and DOB/Pass)
After You Successfully Login,
You can select your exam mode Under the Profile Section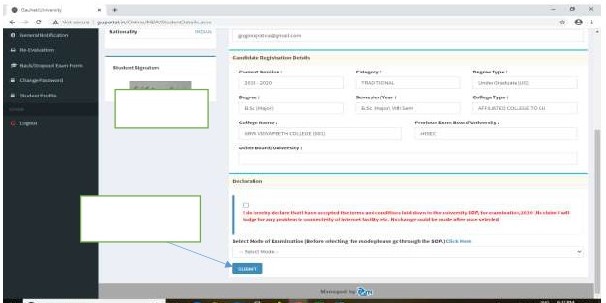 Tick the Confirmation Box and Submit
How to get Question Paper and where to upload Answer Sheet?
Login Id and Password will be sent to your Registered Mobile No along with the website link where you need to login for Question Papers and uploading your Answer Sheet.
How to make PDF and which is the best PDF maker app?
Best pdf maker we recommend is Adobe scan because it can make pdf in less time, (You can try various other apps, Search Scanner in play store)But Adobe Scanner can save your time, Simple to use and Easy to Export.
Watch the video down below for detailed information
How to upload pdf in the portal?
You need to upload Answer Sheet the same portal where you get your question paper from.
Don't forget to rename your PDF file with your Roll No and Subject Code
After Successful upload 'successfully uploaded' message will be displayed
N.B: Keep an envelope ready, In case if you fail to upload your answer sheet online, seal it and submit to the nearest college within the limited time given.
Additional time for scanning the answer sheet and uploading the pdf will be given and time duration will be mention in the question paper or a notification will be published regarding this
Important Links for GU 6th Sem Online Exam
SOP (Standard Operating Procedure)
Candidate will login as per time table and they will be able to view Question paper as per schedule. The login id will be sent to their registered mobile nos only.
Candidate have to write answers on A4 size paper of maximum 10 pages and need to put page nos at the top right corner of the sheet. In the front page, candidates have to write their Roll Nos, Subject, Paper Code etc. clearly tailing which evaluation could not be done
The candidates will 'scan' or'take photograph' of the answer sheets clearly by mobile phone.
Candidate will upload the photograph or scanned Answers Sheets in pdf format from their own login id.
After uploading Answer Sheets – 'successfully uploaded' message will be displayed.
Student should rename the pfd file before uploading and the name of the file should be the Registration No and the Subject Code.
The University will not be responsible for slow/poor connectivity of internet.
Student may submit their answer sheets to the nearest colleges under Gauhati University within the stipulated time in a sealed envelope.